I think it's best I limit the amount of words I use in this post because I curse too much as it is and it's been a remarkably trying week featuring a full buffet of asshattery and a side dish of positive news. So I've decided to share my reactions to some of the past week's news and events through a series of my favorite gifs.
Pat Robertson's comments on adoption
In case you can't watch the video, here's some of what he said:
"I've got a dear friend [who has]an adopted son, a little kid from an orphanage down in Columbia. Child had brain damage, grew up weird. And you just never know what's been done to a child before you get that child. What kind of sexual abuse [there] has been, what kind of cruelty, what kind of food deprivation, etc. etc. You don't have to take on somebody else's problems. You really don't."
Somebody else's
problems
?
Congressman Todd Akin
sharing his vast knowledge of the female reproductive system:
"It seems to me, from what I understand from doctors, that (pregnancies from rape are) really rare. If it's a legitimate rape, the female body has ways to try to shut that whole thing down."
U.S. Representative Steve King
chiming in to say he's never personally heard of a woman getting pregnant from rape or incest (not to mention voicing
his opinion that dog fighting should be legalized
because humans watch other humans fight so...)
Oh, and Steve King also saying this a few weeks ago:
"If there's a sexual predator out there who has impregnated a young girl, say a 13 year old girl, and it happens in America more times than you and I like to think, that sexual predator can pick that girl off the playground at the middle school and haul her across the state line and force her to get an abortion to eradicate the evidence of his crime, and bring her back and drop her off at the swing set, and that's not against the law in the United States of America."
Conservative columnist
Mona Charin
writing this to suggest Todd Akin's pseudo-scientific claims weren't all that stupid:
"Is it such an outlandish idea? I looked it up, and it appears that there is no evidence that pregnancies are less likely in cases of rape, but it didn't seem out of the realm of possibility to me."
There is no evidence that these people literally have their heads stuck entirely up their own asses, but it doesn't seem out of the realm of possibility.
Kirk Cameron's opinion
on Todd Akin (or pretty much anything else)
A week of this shit PLUS the "Christian" group in this article from Mother Jones PLUS too many online comments
referring to women as whores, sluts, and tramps who, because they "spread their legs", are asking for whatever they get
The "restoration" by an elderly parishioner of a fresco of Jesus in a church in Spain
This girl's Instagram photo
(from
Rich Kids of Instagram
) that had this caption: "Can't really decide which Birkin to use today. #leezyprobz #mycloset #hermes
bykillerandasweetthang
"
Note: Birkin bags can cost anywhere from $7,000 to more than $100,000.
Friend on Facebook
suggesting that anyone who makes fun of or criticizes these wealth-flaunting teens is simply envious of them
Same friend
suggesting that if you don't achieve success, it is because you didn't want it badly enough
Reading the back-and-forth debate between that friend and my awesome cousin-in-law
This local headline
:
Cullman mayoral candidate says Jerry Springer show appearance shouldn't hurt her campaign
The news that 22-year-old Taylor Swift is dating a high school student
The news that Taylor Swift crashed a wedding and had to be asked twice to leave
Seeing naked photos of Prince Harry
My friend Rhonda's fantastic new license plate
"Growing up is for suckers. And zombie bait." - Rhonda Lother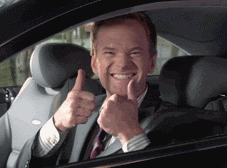 The kids starting school and being gone all day
Just kidding.
How I really feel
about the kids being gone all day.
Having to wake up at 6 am after an entire summer of sleeping late
How I feel about getting a part-time job at a great company
Finding out the dress code is casual
Realizing this is my last weekday of unemployment
Enjoy your weekend, everyone!
Postscript:
Don't forget there are only two new episodes of
Breaking Bad
left (until next summer when the show's final episodes will air).
Bonus gif: Aaron Paul being adorable and my reaction to finding gif of Aaron Paul being adorable: